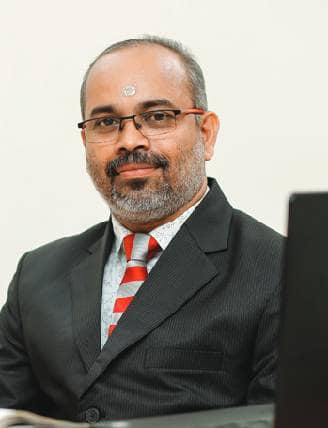 Anil Kumar N.K.
Mr.Anil Kumar NK, acts as an Assistant Professor and Exam Controller to the the Institute. He holds a Bachelor Degree in Mathematics from Sree Narayana College, Kannur and Masters in Computer Science from Kariyavattom Campus, Kerala University. His main project during PG programme was "Face Recognition System using Visual C++" in collaboration with Kerala State Crime Records Bureau. He also did a Higher Diploma in Co-operation. Mr. Anil Kumar also served in US Technology Park, Trivandrum for a period of 1 year.
With more than 20years of teaching experience Mr. Anil Kumar handles Quantitative Techniques for Management, Information Technology for Managers, Operations Research, Research Methodology, Management Information System, Indian Management ethos and practices.
He is one of the main coordinators of various programmes conducted by Institute of technology Mayyil.
Recently, Mr. Anil Kumar attended webinar on NAAC Sponsored National Online Workshop on Teaching, Learning & Research in the Perspective of NAAC RAF by Bishop Moore College Mavelikara and an International FDP on Basis of Research Statistics organised by A2Z Edulearning Hub.
He served as Centre Observer for the NIFT situation test for several years, which was organised by All India Management Association (AIMA)
He also handled sessions for UG students and Teacher Training students on Quantitative Techniques and ICT.
Mr. Anil Kumar is interested in sports activities especially in cricket. He is mentor and supporting staff of YCC cricket club Kannur.